Ross E. Krasnow, MD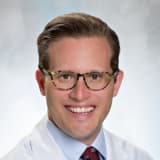 Ross Krasnow, MD, MPH, is a urologic oncologist at MedStar Washington Hospital Center. As a urologic oncologist, Dr. Krasnow specializes in the treatment of urologic malignancies including bladder, kidney, prostate, testicular, and upper tract urothelial cancer through the use of minimally invasive surgical techniques, such as endoscopic, laparoscopic, or robotic technologies, and when necessary open surgery. He also treats upper urinary tract obstruction/strictures, complex stone disease, benign prostatic hyperplasia, patients who require upper urinary tract reconstruction or urinary diversion, and other urologic conditions.

His treatment methods specifically focus on organ sparing techniques. When surgical management is needed, minimally invasive organ sparing techniques allow for partial removal of the affected organ and allow patients to maintain urinary and sexual function, while also maintaining quality of life.

Dr. Krasnow received his medical degree from the University of Miami Miller School of Medicine. He then joined Baylor College of Medicine for an internship in general surgery and a residency in urology. Dr. Krasnow completed a Society of Urologic Oncology (SUO) accredited two-year fellowship in urologic oncology at The Combined Harvard Program in Urologic Oncology at Massachusetts General Hospital and Brigham and Women's Hospital. He has also received a master's of science in bioethics from Union Graduate College in association with Mount Sinai School of Medicine Center and has completed a master's in public health during his time in Boston at the Harvard TS Chan School of Public Health.

Dr. Krasnow takes special interest in the treatment of complex urologic tumors and conditions, even those that involve multiple organs. His research interests include cancer outcomes, population health, quality improvement in bladder cancer and other urologic malignancies, and the burden and financial toxicity associated with cancer care. He is widely published and has presented nationally on numerous occasions on these subjects.

Dr. Krasnow has extensive experience using robotic minimally invasive surgical techniques through keyhole incisions for both cancer excision and reconstruction. He is also well-trained in MRI-fusion guided biopsy for the detection of prostate cancer. Additionally, Dr. Krasnow is thoroughly trained in retroperitoneal surgical techniques which are typically applied in the case of hostile abdomen, a condition that develops when multiple previous abdominal surgeries have left significant scarring in the abdomen, or difficult to access tumors. Retroperitoneal surgery approaches the kidney from the back and may allow for improved tumor resection, faster recovery time, and fewer complications.

In order to successfully treat complex genitourinary conditions, Dr. Krasnow hand-picks a multidisciplinary team of specialists that understand the particular disease process and that dedicate themselves to each individual patient. He is a member of the American Urological Association (AUA), the Society of Urologic Oncology (SUO), and the American Society of Clinical Oncology (ASCO), and he has the honor of being inducted into the Alpha Omega Alpha (AOA) Medical Honor Society.

When not performing clinical responsibilities or in research, Dr. Krasnow is spending time with his wife and three children.

---