George K. Philips, MBBS, MD, MPH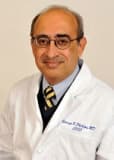 George K. Philips, MBBS, MD, MPH, is an attending physician specializing in genitourinary oncology at MedStar Washington Hospital Center (MWHC), MedStar Georgetown University Hospital (MGUH), and Georgetown Lombardi Comprehensive Cancer Center. In addition to his clinical responsibilities, he is an associate professor of medicine, Hematology-Oncology Division at Georgetown University Medical Center.
Dr Phillips earned his MBBS degree from Grant Medical College, Bombay University in Mumbai, India. He then earned his medical degree from Christian Medical College in Ludhiana, India. He completed his residency in general medicine and a fellowship in hematology-oncology at the University of Colorado Hospital in Denver. He earned his master of public health from the Harvard School of Public Health in Boston.
Dr Philips's research is focused on prostate, kidney, bladder, and testicular cancer. His educational and leadership skills in trainee and faculty development have contributed to his success in cooperative, interinstitutional, and network-wide clinical research. Dr Philips' research experience includes acting as principal investigator for clinical trials of new therapeutic agents for treating patients with prostate, kidney, and bladder cancer. To promote participation in clinical trials, he founded a regional collaboration among specialists in radiation and medical and urologic oncology at academic centers throughout the Washington DC's metropolitan region. He also engages in multiple research activities at the Georgetown-Lombardi Comprehensive Cancer Center where he founded the Interdisciplinary Prostate Cancer Research Group and Genitourinary Tumor Board and is a member of the Fisher Center for Familial Cancer Research.
His research has been published in International Immunology, the Journal of the National Cancer Institute, Clinical Interventions in Aging, and other peer-reviewed journals. He coauthored a book chapter on "New Agents/New Targets for Renal Cell Carcinoma," published by the American Society of Clinical Oncology (ASCO). He is a Fellow of the American College of Physicians, and he is a member of the ASCO. His honors include a Best Teacher of the Year Award from the Hematology-Oncology Division, MGUH. Dr Philips is board certified in internal medicine, medical oncology, and hematology.
At Georgetown University Medical Center, he serves as the Vice Chair of Faculty Development and Subspecialty Training Programs in the Department of Medicine. As the Director of Mentoring for the MGUH Department of Medicine, he collaborates to foster an environment conducive to academic success for a diverse faculty body composed of more than 80 junior and midlevel members. He also is Chair of the MedStar Health Research Institute-Georgetown University Oncology Institutional Review Board.
Dr Philips serves on the test question development committee for the National Medical Oncology In-Training Examination for Fellows. He has been an invited speaker on prostate cancer prevention, support, and survivorship at regional and national events for healthcare professionals and the public. At MWHC, he leads the Genitourinary Medical Oncology program. In this capacity, he runs the Urologic Oncology Tumor Board and enrolls patients in clinical trials.
---